The Northwoods newest and finest Sports Bar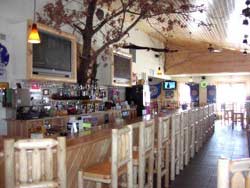 Built new in Dec 2006, Cross Country Bar and Grill is located in Rhinelander, WI, 4 1/2 miles north of Menards on Highway 17.  We think you will agree that it is a unique and exciting atmosphere that is one of a kind to this area.
We are located directly on the snowmobile trail which allows all of you snowmobilers easy access to stop to warm up and enjoy one of our excellent menu items.  We also have parking for those of you who need to drop and ride.  There are many places to leave your vehicle/trailer while you ride.
For you sports fans, Cross Country Bar and Grill is well equipped with 14 LCD flat panel TV's. There is literally not a bad seat in the house, whether you are out to watch your favorite team, or just relax while listening to the music videos.
COMING SOON: Wedding/Banquet facility.  See the Parties/Gatherings page for more details!
If you are looking for a great place to have a surprise party, wedding/baby shower, family reunion, rehearsal dinner, or just about any other get together you can imagine, we are ready to handle your needs. We have installed a great outdoor patio with seating for as many as 60+ people to accommodate the spring/summer/fall parties. You can enjoy the outdoors while playing on one of our sand volleyball courts, or pitch horseshoes on one of our horseshoe pits. We have great chefs that can provide many different tasty treats for all of you.  
Our menu is simple, yet second to none in terms of quality. Whether you order a burger or sandwich, pizza or wings, or just an appetizer, we think you will agree that our food is as good as it comes. Our all day Friday Fish Fry is equally as fabulous.  Our fish fry includes Haddock ( grilled or deep fried ), Lake Michigan Perch, Shrimp ( grilled or deep fried ), or Frog Legs. Although we do not take reservations, we can handle large groups just about any time of the day. Come in and give us a try and we are confident you will return again